Jason Quigno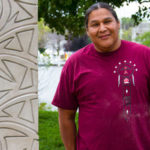 Anishinaabe Artist Jason Quigno was born in 1975 in Alma MI. Working in all types of stone and and always evolving pushing the limits of the stone and of himself Jason strives for simplicity, movement, balance and beauty in each sculpture.

Jason Quigno can take a heavy block of hard, rigid stone and turn it into a seemingly weightless series of flowing forms, curling and interlocking with a distinct sense of movement. While he polishes the surface of certain pieces to a smooth, shiny finish, at times he chooses to expose the stone's raw texture, or to meticulously etch one side, highlighting the apparent flow of something as unyielding as stone.

With the goal of evoking a sense of peace, Quigno deliberately chooses simple designs and captivates the viewer with a sense of graceful movement. He lets the stone dictate its direction; certain pieces have a natural flow, while others require more manipulation to avoid lines and flaws.

Jason Quigno was inspired at a young age by the work of his uncle, and went on to take a sculpture class taught by Dennie Christy. He the apprenticed under Daniel Mena, and has since been exhibiting his work across the United States.
Statement
I work in all types of stone: soapstone, alabaster, limestone, marble, basalt, and granite. I love the process of taking a raw, dense block of stone and transforming it into a balanced and harmonious object.

When I create I am always pushing myself, my designs and the limits of the stone to bring out a fluid and balanced form, and to create artwork that is graceful, delicate and has a sense of movement. You don't think of stone as having these qualities but these are some of the things I strive for in my work.